Shaukat khanum Hospital Lahore Jobs 2018 Application Form Online for Medical, Nursing and other positions the detail of the job and how you can apply for the jobs is discussed here in detail. Shaukat Khanum is not a small name in medical world of Pakistan as this is the first cancer hospital in Pakistan. There are three hospitals in whole Pakistan that are in Lahore, Karachi and Peshawar. Shaukat Khanum Hospital were founded on 29th December, 1994 by Imran Khan, Lahore hospital is located in 20 Acres land in Lahore and is comprises of 176 beds. For the initial steps and establishment Imran Khan raised funds which were collected from all over the Pakistan. First find raising voice were raised from the Gaddafi stadium in 19889 from Lahore and that time Rs. 2902600.- were collected and the Shaukat Khanum Hospital were started. From that time this Hospital is working for the needy person and removing disease of cancer from Pakistan. Now it needs some more person to facilitate the community that is why in today's Newspaper an ad were published so that eligible candidates can send their CV's to the official and after comparing the selected candidates will be called for the interview. Here is the more detail on this page so read this article completely. Shaukat Khanum Hospital Jobs Application Form 2018
Shaukat khanum Hospital Lahore Jobs 2018
If you are competent enough and eligible for the post then you are welcomed to apply for the Shaukat khanum Hospital Lahore Jobs 2018 as this is the best career opportunity to capture. The facilities and the offers that Shaukat Khanum Hospital gives you cannot get from any other place
Shaukat Khanum Memorial Cancer Hospital & Research Centre is pleased to invite applications for the following positions
Medical Positions:
Consultant Medical Oncologists Part Time for KDC&C
Fellowship in Pediatric Oncology (Lahore & Peshawar)
Fellowship in Medical Oncology (Lahore & Peshawar)
Fellow Hospital Medicine (Peshawar)
Fellowship Program in Infections Disease (Lahore)
Clinical Oncology Fellow (Lahore)
Fellowship in Body imaging (Lahore)
Intervention Radiology fellowship
Fellowship in Surgical Pathology
Fellowship in Uro-Oncology
Medical Officer (surgical Oncology)
Medical Officer (Medical Oncology)
Medical Officer / Resident Doctor in Anesthesiology
Other Positions:
BMT Coordinator
Trainee Cancer Registry Officer (For Cancer registry and Clinical Data Management)
Quality Assurance & Data Analysis Officer
Harware Technician
Product Development Manager (Lahore)
Fundraising officer (peshawar)
Driver (Peshawar)
Marketing Executive (Hospital Services )For Karachi
Shaukat khanum Hospital Lahore Jobs 2018 Advertisement: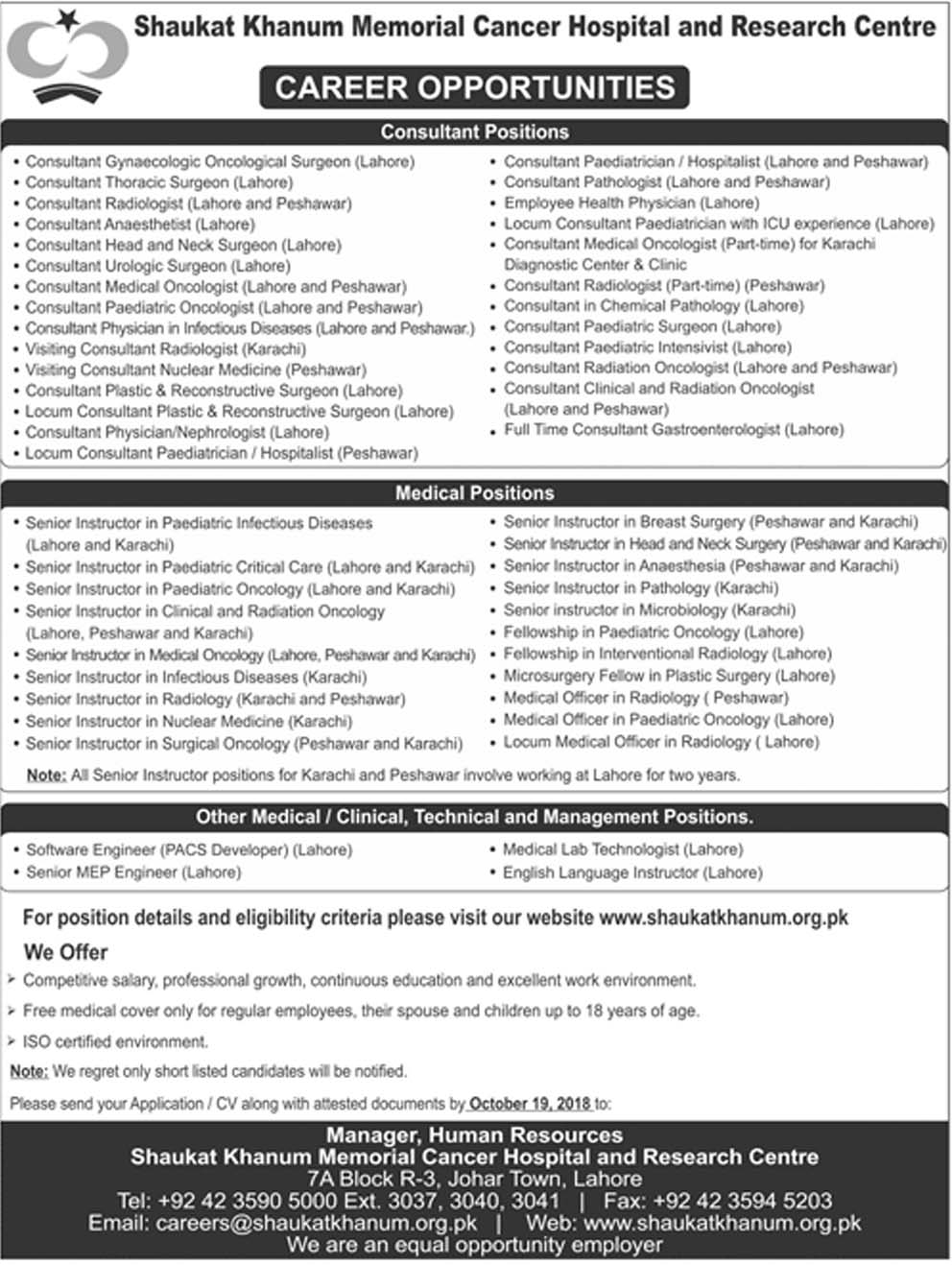 So if you are eligible for the gen posts and want to be a part of the Shaukat khanum Hospital Lahore Jobs 2018 then you have to send your CV's along with a passport size recently taken photographs and all of your educational and medical certificates to the given address. After the complete review of your CV's by the Human resource Department they will call selected candidates for further interview. So send your application to the given below address.
Manager Human Resources
Shaukat Khanum Memorial Cancer Hospital & Research Centre,
Johar Town , Lahore .
Tel: +92 42 35905000 Ext. 3037
Fax: +92 42 3594520
Email Your Documents to : [email protected]