Get the complete details about Allama Iqbal Medical College AIMC Lahore programs fee structure, website, address, contact no and courses name. This public school of medicine, health sciences and the nursing institute was established in 1975 and located in Lahore. Mr. Zulfikar Ali Bhutto is the founder of Allama Iqbal Medical College and he inaugurated this college on 2nd May 1975. Since the time of formation, the institute has maintained its campus on 105 acres of land where they offer different medical and allied health sciences programs with lots of student's convenient facilities. Moreover, it is also affiliated with the University of Health Sciences (UHS), Pakistan Nursing Council (PNC), College of Physicians and Surgeons of Pakistan (CPSP), and of course Pakistan Medical and Dental Council (PMDC). The degree you will get from this institute will have great importance in your career building. So in order to take admission programs, fees and other details just keep on reading this article to get the details on this page.
Allama Iqbal Medical College AIMC Lahore
Get Complete information about Allama Iqbal Medical College AIMC Lahore programs fee structure, website, address, contact number, offered courses and their eligibility details. Must read this post before applying for admission in AIMC College.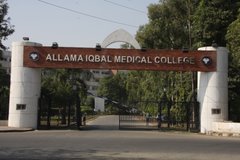 Offered Programs:
The following AIMC Lahore programs are being offered which you can access by clicking on it. There are two main departments are arranged for the students such as basic science department, medicine, and allied health department. In the basic science department, various subjects are offered such as anatomy, biochemistry, community medicine, pathology, pharmacology, and physiology. In the case of medicine and allied department, multiple subjects are offered such as cardiology, dermatology, cardiac surgery, and many more subjects.
MBBS
BDS
BSc Nursing
BSc Allied Health Science
You can also apply in all the above-mentioned programs
AIMC Lahore Fee Structure:
The subjected Allama Iqbal Medical College AIMC Lahore fee structure is not given online on the official website. The reason is, there are various students who are bringing positions and the fees is also getting change every year. That is why the officials have not given the schedule online. A student has to visit the campus for taking the details of its fees for each program. But if you have any knowledge about it, you must share with others in the comments below.
AIMC Lahore Admission Eligibility:
For taking admission into MBBS and BDS, a student has to conduct a minimum 65% marks in FSc pre-medical or equivalent. These students will also attempt the MDCAT test taken by the UHS university. While for taking admission in BSc programs a student has to done intermediate with at least 1st position and they will also have to attempt and pass the AIMC entry test. After that, the merit list is displayed which finalizes if you have selected for these admissions or not.
Address:
Allama Iqbal Medical College, Allama Shabbir Ahmed Usmani Road, Lahore  54550 Pakistan
Contact No:
Information: (9242)9231443
Principal Office (9242) 9231441
Website:
www.aimc.edu.pk
Email
[email protected]
On the whole, after discussing the Allama Iqbal Medical College AIMC Lahore Programs Fee Structure, Website, Address, Contact No. It is easy to conclude that this medical college is considered to be the best medical college in Pakistan. It's the dream of every student to get admission in this medical college. We are just stayed in tune with this page to provide you the best services for this institute. You can leave your comment in the following commenting section to get the further details which are very necessary for you to get further details about it.