In this article we will be discussing all the details about Hajj Policy 2015 in Pakistan. As we all know that very soon just within few months Pakistan People's Party Government will all came to an end therefore they have initiated their final and lasting Hajj Policy 2015. This policy has been freshly introduced by the PML- N Government and the total expenditure for the policy has been set out as Rs. 246631. This expense art is much higher as compare to the previous year Hajj Policy 2014. Well here we would like to mention that the quota of the Hajj Policy will be all remained just like the previous year that was 179,210. This time PML-N Government has decided that Hajj Policy applications will only be favoring all such applicants that will be submitting their forms first. In simple words, this policy will be preferring "First Come, First Arrive" motto. Minister of Religious Affiars Khurshid Shah has stated that the basic reason for increasing the Hajj rates is because of the high rate of Dollar in the market. This statement was revealed in a meeting that was addresses by Khurshid Shah and Qamar ul Zaman Kaira. The very first flight for the Hajj travelers will leave from September.
In addition, this time Hajj Policy has also been accompanied with the rules and customs as well. All those people that have performed Hajj during the last five years they will not be allowed to perform the Hajj without Mehram. All the application forms will be revealed through the banks that will be offering the forms soon after the announcement of the Government. The applicants will be able to take hold over the application forms as soon as the Government will proclaim the proper schedule of the Hajj Policy. In addition to it, the service rates have also been all announced for the applicants. Following is the list of all the activities along with their rates:
Blue Category Air fees will be Rs. 12500.
All the compulsory Hajj dues will be Rs. 7645.
Qurbani Coupon will be Rs. 13,500.
Service charges will be Rs. 700 whereas the accommodation rates will be Rs. 2500.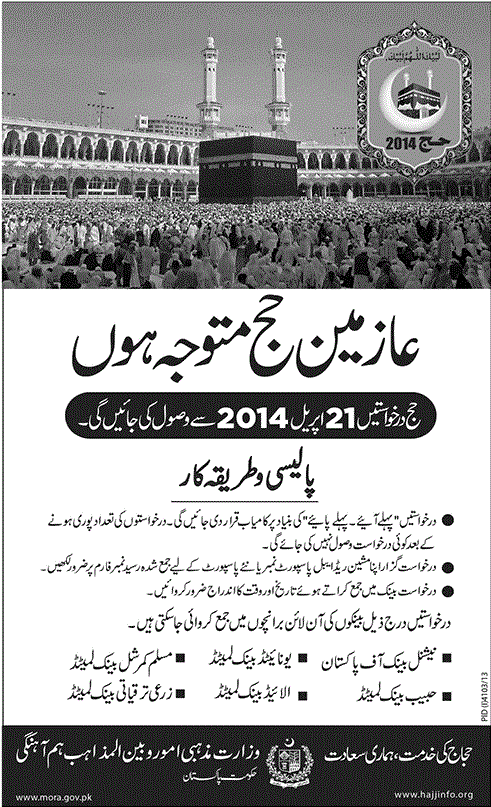 Well on the whole of it this was all about the Hajj Policy 2015. Now all those people that have the everlasting wish to visit the God house they must apply for the application now.
Hajj Policy 2015 Pakistan

,