Muslims have ambitious to see the holy place picture every muslims want to go for hall. Further we would let you inform about the procedure that is known as requirements for the inclusion of Hajj pilgrims. The finger prints and biometric is mandatory now because it is compulsion by the Saudi Arabia.  Biometric and Finger print is the security layer from government of Saudi Arabia to all other governments including Pakistan. The Etimad named company is responsible for all such kinds of verification. It is the free of cost service for the residents of Pakistan. Less than 6 years and more than 80 years are exempted from this verification. Hajj biometric schedule or etimad biometric appointment are required to stay updated. You don't need to worry for such process because hajj biometric schedule will call you by making SMS alert on the register mobile number. Further, helpline is dedicated enough to work for all those who wants to go for this sacred event every year for Hajj Information 2019 In Pakistan.
Hajj Information 2019 In Pakistan
184,210 Pilgrim Will Perform Hajj
110526 Pilgrims are under Government Scheme and other on private Scheme
Hajj package 2019 would cost Rs 4,36,575 for Northern and Rs 4,26,575 for Southern regions
additional Rs19,451 for Qurbani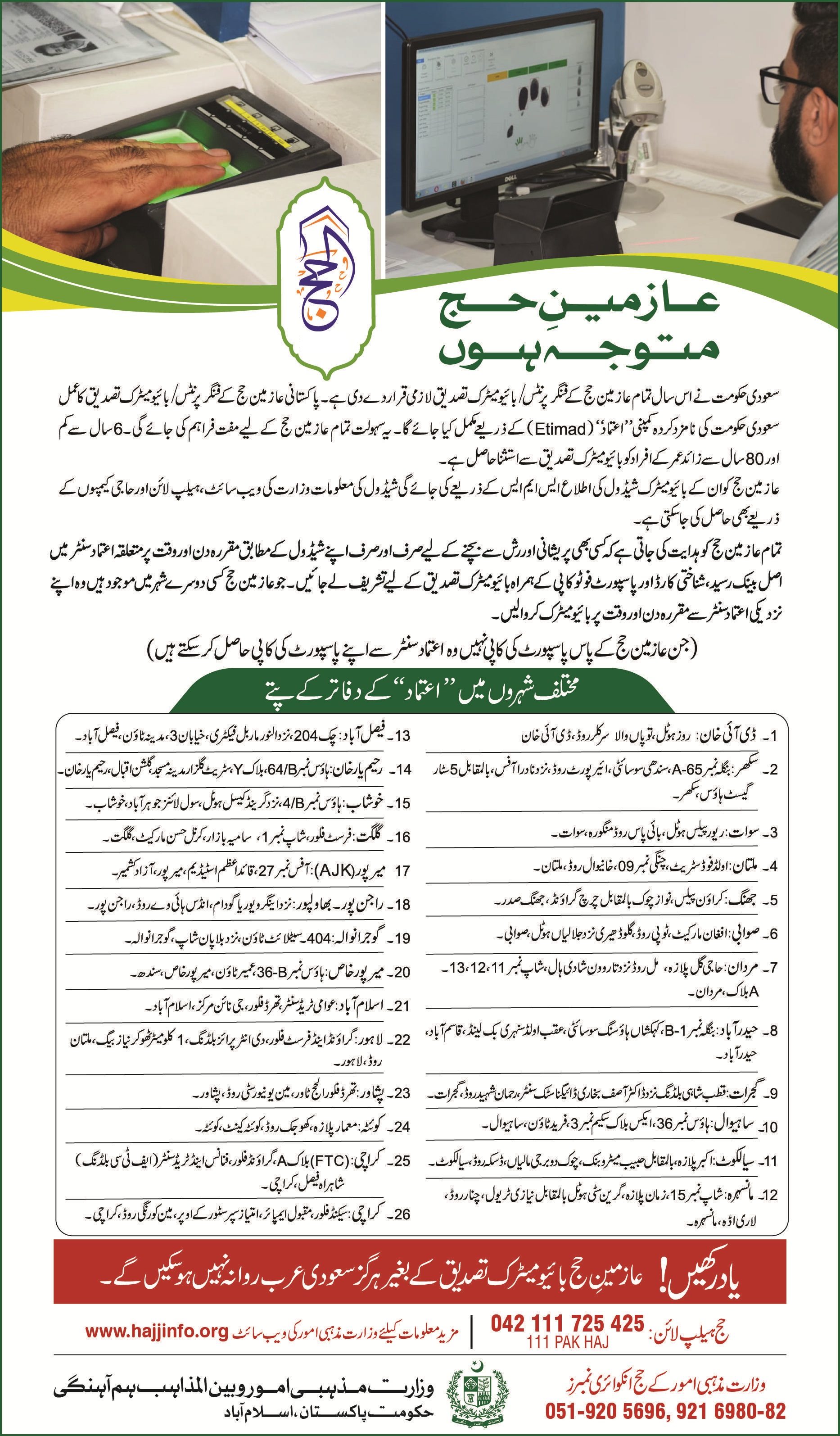 Hajj means literally "to set out for a place". For a Muslim, that place is the Holy City of Makkah. Hajj information is the steps which are performed during the Hajj holy obligation is performed during the zilhaj a holy month according to the Islamic calendar which is eleventh month of holy Quran. It is associated with Hajj Information 2019 In Pakistan. When we perform Hajj it gives us the feeling of closeness by Allah Almighty and Alla is the one who order us to perform us who have the ability to perform both financially and Physically. If a person having both these requirement then he must perform Hajj.The annual hajj pilgrimage to Mecca.The annual pilgrimage, one of Islam's five pillars, draws 3 million each year, making it the largest yearly gathering of people in the world. Believers from all over the world travel to Mecca in Saudi Arabia. It is all about the Hajj Information 2019 In Pakistan, we will share more here at this page.
ALLAH hum ssab ko Hajj karne ki sadat ata farmaye.