In this article we will be discussing all the details about Hajj Policy 2019 Pakistan. As we all know that very soon just within few months Pakistan Muslim League N (PML-N) came to an end therefore Next Government Pakistan Tehreek-e-Insaf (PTI) have initiated their final Pakistan Hajj Policy 2019. This policy has been freshly introduced by the PTI Government and the total expenditure for the policy has been set out as Rs. 4,36,575/ for Sindh and Balochistan while Rs. 4,26,575/. Furhter Rs. 19451 will be charged extra alongside the basic package that includes the security charges, Zamzam Water Charges and Rs. 500 will be charged from each haji as "takaful" on the return. This time PTI Government has decided that Hajj Policy 2019 Pakistan will be comprise on lucky draw and those whose name will be in lucky draw that will be held on 8th March, 2019 will be allowed to perform hajj 2019 under Govt Hajj Scheme 2019. Minister of Religious Affairs has stated that this year total 184210 pilgrims will perform hajj which is higher number then the previous number of infants. This statement was revealed in a meeting that was addresses by Khurshid Shah and Qamar ul Zaman Kaira. The very first flight for the Hajj travelers will leave from 2019.
Hajj Policy 2019 Pakistan
from the last year policy for Pakistan Hajj it is made compulsory on each candidates that they should have their bio-metrics before fly to Makkah. The Schedule of each candidates should be text on their given number and on the desire date those candidates should have to appear in the center for their Bio-mertics. Other in the Hajj Policy 2019 Pakistan there is a little change from the last year policy and that are in the price of each pilgrim as well as the Number of Pilgrim who will perform Hajj this year from Pakistan. The rest of the complete information is given below on this page for all of you.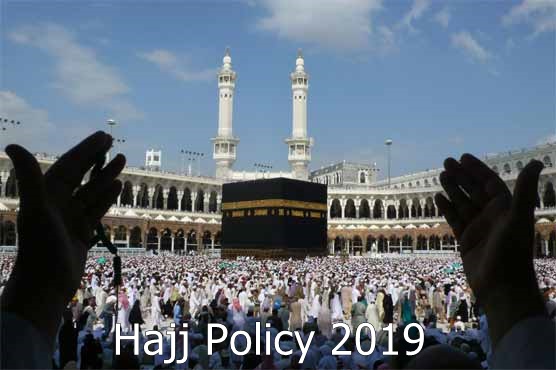 Pakistan Hajj Policy 2019
In addition, this time Pakistan Hajj Policy 2019 has also been accompanied with the rules and customs as well.
All those people that have performed Hajj under private scheme during the last five years they will not be allowed to perform the Hajj again without Mehram (Husband/ Wife). Those who have performed hajj under government scheme will not allowed before 7 years.
5% (refundable on return at Pakistan Airports) of total package amount will have to deposit as security
5 litter Zam Zam water will be given to every pilgrim at Airport on return
3 time meal including breakfast / lunch and dinner will be given free of cost by the Saudi authorities
2 Abaya (Burqa) are must for every female to keep with bribing from Pakistan
Pakistani Stickers must be stippled in front of Ehram from start of journey to the returning at Pakistan Airport
Hajj Policy 2019 Pakistan In Urdu
All the application forms will be revealed through the banks that will be offering the forms soon after the announcement of the Government. The applicants will be able to take hold over the application forms as soon as the Government will proclaim the proper schedule of the Hajj Policy 2019 Pakistan In Urdu. In addition to it, the service rates have also been all announced for the applicants.
Following is the list of all the activities along with their rates:
Well on the whole of it this was all about the Hajj Policy 2019 Pakistan. Now all those people that have the everlasting wish to visit the God house they must apply for the application now.