If you are looking for Ramadan Mubarak Whatsapp Messages, Status, SMS 2020 then you are at the right place at the right time as Ramdan indicates it is not an ordinary Month. Everyone who links their inner self With Ramzan also becomes an extraordinary individual as others who don't care for this Holy Month. Ramzan is among the Holy Months and it is the 9th Islamic Month that comes after Sha'ban. Ramzan is full of strong feelings with Allah almighty to praise Allah and get always the forgiveness from Allah about our sins. If you are also the victim of the devil and do many sins, now its time to demand forgiveness about your sins from Allah Almighty because He is the only one who can understand us without discrimination. Here are some Latest Ramzan SMS for showing your Love towards Allah and showing you are belief about Ramzan to other peoples as well. So, have a look down for it.
Ramadan Mubarak Whatsapp Messages, Status, SMS 2020
So, here are some quotes and poetry that you can send to your friends and relatives. These can be used for Whatsapp messages. You can also use them for Whatsapp status. So, have a look down for it.
Ramadan Mubarak Whatsapp Messages 2020
Ye Ramzan Ki Raaten,
Ye Rab Ki Inaayaten,
Ye Rehmaton Ka Nuzool,
Ye Nekiyon Ka Husool,
Ye ibadat Ka Shoq,
Ye Tilaawat Ka Zoq,
Ye Gunaahon Se Doori,
Ye Tamaam Raaten Noori,
Ye Taravih K Silsily,
Ye Bakhshishon K Marhaly,
is Maahe Muqaddas K Sadqy,
Ya ALLAH!
Hm Sb Ko Bakhsh Dy Or
Hum Pr Reham Farma!
"Aameen"
Us ki rehmat se na umeed na ho ay Banda Momin .
Agr Us ne Teri bakhshish na krni hoti tu Muslman k ghr peyda hi na krta..*…
Ramadan Mubarak.
مجھ سے مت کریار کچھ گفتار،میں روزے سے ھوں
ہو نہ جائے تجھ سے بھی تکرار، میں روزے سے ہوںہر اک شے سے کرب کا اظہار، میں روزے سے ہوں
دو کسی اخبار کو یہ تار، میں روزے سے ہوں

میرا روزہ اک بڑا احسان ہے لوگوں کے سر
مجھ کو ڈالو موتیے کے ہار، میں روزے سے ہوں

میں نے ہر فائل کی دمچی پر یہ مصرعہ لکھ دیا
کام ہو سکتا نہیں سرکار، میں روزے سے ہوں

اے مری بیوی مرے رستے سے کچھ کترا کے چل
اے مرے بچو ذرا ہوشیار، میں روزے سے ہوں

شام کو بہرِ زیارت آ تو سکتا ہوں مگر
نوٹ کرلیں دوست رشتہ دار، میں روزے سے ہوں

تو یہ کہتا ہے لحن تر ہو کوئی تازہ غزل
میں یہ کہتا ہوں کہ برخوردار، میں روزے سے ھوں

Rozay daaro !Allah Nabi dy pyaro!
Jannat dy hak daaro Thora Khaao.
Ay Sehri hey Valima ni
Ramzan garmi ke mosam me aa rha hai.
is liye piyas ki shidat mehsus na ho.
ap sehri me 2 spoon dahi or choti ilaechi
ka kahva p len.ise pura din aftari tk piyas ni lage gi.
aram se har roza guzre ga.
is choti c bat ko sab muslims tak pohnchayen
ta k koi b 1 roze se mehroom na ho.
muje duaon me yad rkhye ga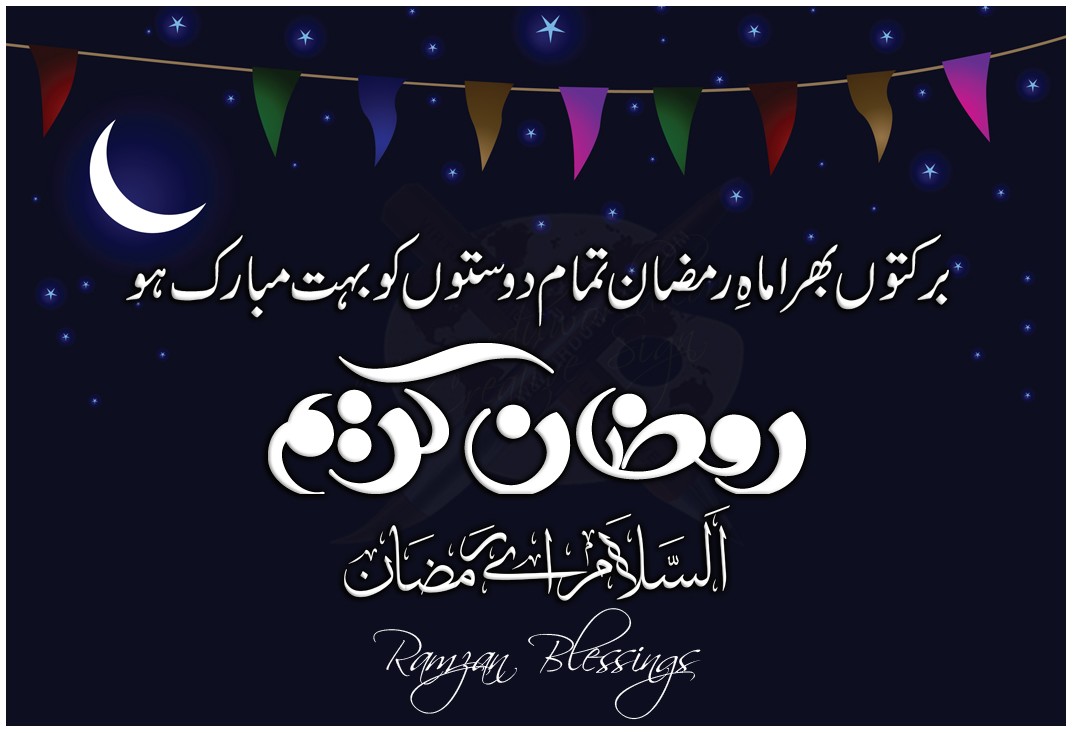 Ramadan Mubarak Status 2020
Ramadan is not a month of cooking competitions between friends and neighbours. Focus less on the menu and more on your Iman.
The blessed month of the year has come. It is the season of Ramadan. Fasting, praying, repenting from sins. Hoping that Allah shower you and your beloved with loads of blessingsmay the spirit of Ramadan bless you with
prosperity, wealth, and happiness in life.
May Allah forgive you for all of
your fault and wrongdoings
*RAMADAN MUBARAK*
Noor se likha jaye isMah e Mubarik me tera naseebRab apne siwa tujh ko kisi kamuhtaaj na kareAmeen !! 🙂
Dostoo aap ko ek zarori baat batani haitake pichley Saal ki tarh aap ko afsos na hoQ k Ramzan aa Gaya haito JIS JIS ney Bhi meri Iftari ki dawt krni haiwoh pehley bata kr time ley lybooking jari hai ta k baad me Kisi qism ki pareshani na ho.
Ramadan 2020 SMS
Garmi K Mausam Ki Wajah Se, Agar Rozay Main Aapko Shadeed PyaasMehsoos Honay Lagay.To Aisa Karen.
.
.
.
.
.
Maghrib ki Azaan Ka Intazaar Karen.Ziyada Dramay Bazi Ki Zaroorat Nahi Hai.
((Khuda kare))k ap ko is ramzanme har khushi mileyI hope aap sabis ramadan meNEykY ki Taraf
rukh kar len Ge Ham bhi
__INSHALLAH__
Assalam-O-Alaikum!
Aap Ko Aur Apke Ghar Walon Ko
.
.
.
.
.
.
.
.
.
.
.
.
Allah Hi Po0chy Ga,
Ik Bar Bhi Aftaar Pe Nahi Bulaya!
Jub Guzar Jayenge Mah Giyara,
Teri Aamad Ka Aamad ka Phir Shoor Hoga,
Kiya Meri Zindagi Ka Bharosa,
Alwada Alwada Mah-e-Ramzan.Bazm Iftar Sajti Thi Thi Kaisi,
Khoob Sehri Ki Ronak Bhi Hotee,
Sub Sama Hogaya Suna Suna,
Alwada Alwada Mah-e-Ramzan.
Hum Rahen na rahen aglay BarasMagar tum phir Aajao geAye RamazanDar Haqiqat tum nahi,Insaan hai Mehmaan..!!
Wah ray Mah e RamazanTeri Rukhsati ko SalamAsman bhi ro paraTujhy Alvida kehty kehtyAlvida Jumma MubarakAlvida Alvida Mah e Ramazan
Aaj jis jis ny Roza rakha hai,Uski Aftaari mere gher
.
.
.
.
.
.
.
k Qareeb wali Masjid me hai, OK All friends are Invited.Yaad se Aana…
Ramadan Mubarak Whatsapp Messages, Status, SMS 2020
This is all about the Ramadan Mubarak Whatsapp Messages, Status, SMS 2020. We have shared these messages or SMS so that during the month of Ramzan or before starting this holy month you have a lot of things and words to share with the other. We hope that you should like our effort regarding collecting these messages for you.