Today Topic is about the "Women's Place in Islamic Society Essay With Outline". Men and women are the wheels of the same carriage. The life cannot properly work if one wheel is damaged. Women are the inherent and integral part of the society. Allah created women as the companion of men and make her able to walk with them in life. Islam gives respect to the women in the society. Islam defines the role of women as a daughter, sister, wife, and mother. Islam gives a share to the women inheritance. A woman makes a paradise in her home. Home is the key to an excellent society. It would not be wrong if we say that women make the society.
Arab is the place where Islam flourishes. Before the advent of Islam, women were most affected by the cruelty of society. They were treated worse than animals. The newborn baby girls were buried alive. No respect was given to them. They are worse than slaves. Daughters were supposed to be the curse for the family.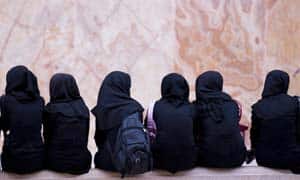 After the arrival of Islam, Allah reveals a Surah in QURAN name AN-NISA (which means women itself). This explains that how much Allah gives respect to the women. Allah's blessings are upon that home and parents that have daughters. Islam gives respect and status to the women which they deserve. Allah explains in the QURAN about important place of women in the society. Islam gives the basic, necessary and essential rights to the women. Our Holy Prophet (SAW) has said: "verily the paradise lies under the feet of your mother"
Holy Quran says: "Women have the same rights in relation to their husbands".
And the Holy Quran also says "Treat them politely".
According to Tove Dahl, "women received through the Koran a religious status equal to that of men as believers, and in addition legal status as an independent subject."
In pre-Islamic society, women were considered as the property of their men. Men controlled every action and every deed of the women. Women in the Islamic society should be treated equally. Islam gives great respect to mothers. This is stated in the Quran: "Moreover, the Quran has a special recommendation for good treatment of mothers."
Islamic society gives women and men equal in terms with Allah. Quran clarifies the worth of women. Quran emphasizes and makes people realize that their mothers bore them in pain for nine months and they should respect and be gentle with them. Motherhood, sisterhood is the noblest and honorable status in the society.
Here we end our today topic that is "Women's Place in Islamic Society Essay With Outline" so let us know about your views by commenting on this page.