ICOM Subjects In Pakistan Part 1, Part 2 shall explain here on this page. It means you may have an idea that how every perspective of subjects deals with the ICOM level. The first year consists of economics, accounting, business math, and commerce subjects. Every subject is different and has its own importance with respect to the practical approach after study. The economics subject means you will be a personal financial advisor, a financial analyst in Pakistan, a financial examiner, and could be a statistician in the coming future in Pakistan. After economics, the next subject is accounting and there are highly satisfied careers with respect to the accounting clerk, actuarial accountant, and insurance accountant.
ICOM Subjects In Pakistan Part 1, Part 2
These are some selected careers that can approach students under the perfect material way-outs. Bookkeeping and budget analysis are also some important ways to know the request for the best choice while exploring the career. The capital accountant and comptroller are some important factors that can assure the layouts after the career approach towards practical life experiences. ICOM Subjects in Pakistan Part 2 includes different for example banking, accounting, geography, and statistics.
I.Com 1st Year Compulsory Subject
Urdu
English
Islamiyat (Ethics for non-Muslims)
I.Com 1st Year Subjects
| | |
| --- | --- |
| Principles of Economics | Principles of Accounting |
| Principles of Business Mathematics | Principles of Commerce |
I.Com 2nd Year
| | |
| --- | --- |
| Principles of Accounting | Banking / Computer Studies |
| Commercial Geography | Statistics |
FSc Pre Engineering Subjects List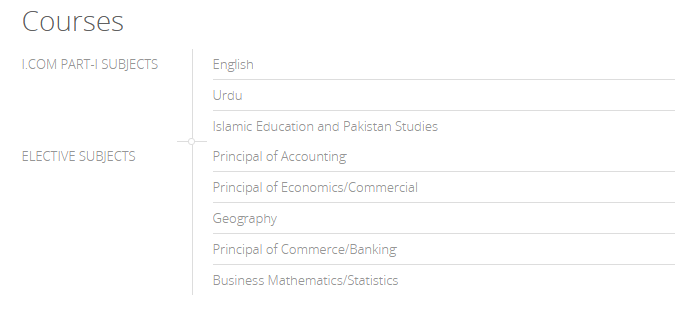 Related: BBA In PakistanBBA In Pakistan
The commerce-related students must take an interest with respect the Actuarial analyst, business advisor, and business analyst. The business development manager is the approach that may reflect according to the analyst with the date exploration approach. A data scientist is a way ideally to behave the requested way out to make a career under the single approach after an ICOM degree in Pakistan.
The most important elements are being declared as per the nice and justified layout to show how it is possible for ICOM Subjects in Pakistan Part 1 and ICOM Subjects in Pakistan Part 2. You must be ready to adopt any career after ICOM after you have ample information about the ICOM subjects in Pakistan.