Are you searching for the electrical engineering admission requirements in Pakistan? Well before letting you know all the details about the electrical engineering admissions we would like to explain the concept of electrical engineering first. Let's have a little Concept of Electrical Engineering With the passage of time scope of electrical engineering is becoming quite a lot popular in the students. Since the last few years because of the fewer jobs the scope of electrical engineering is getting fade up. This education course is all about the study of electrical products and equipments. In addition you will even get to know all in relation with the industrial plants, communication and satellite navigation system, electronic equipment and computers etc along with knowledge of transmission and generation of electrical power, electrical circuit design, electronics, instrumentation, control system, understanding electrical in addition to electronic networks. You have to get yourself all involved into the study of electronic devices and circuits involved in measurement, instrumentation, control and protection of electrical equipments and conversion systems. Concept of computer and recent applications of computer based systems in design, analysis and efficient operation of power system, maintaining quality and security are even mentioned up in the course.
Electrical Engineering Admission Requirements in Pakistan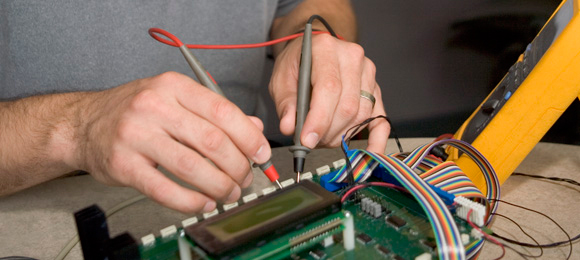 Main Subjects of Electrical Engineering in Pakistan:
Mathematics, Physics 
Electronics
Thermodynamics
Electrical machines and design
Digital Electronics
Electrical Engg. Materials
Linear Control Systems
Instrumentation
Electrical network and communication systems
Power and control systems
Computer Aided Power System Analysis
Non-linear and Digital Control Systems
Extra High Voltage Engg.
Communication Engg.
Electrical Machine Design
Electric Drives & Utilization
Power Electronics
Numerical Analysis
Microprocessors and Interfacing
E.M. Field Theory
Career Scope Of Electrical Engineering:
Companies of public and private sector
Electricity Boards
Large Scale Industries
Manufacturing Plants
Power Corporations
Hydro-Electricity sector
Design Industries
Production plants
Natural gas plants
Petroleum
Steel and chemical plants
Educational and Research Institutions
Indian Railways
Armed forces(Technical Branch)
Thermal and Nuclear power Corporation Limited
Do you want to make your future bright and glittering in electrical engineering? Well if yes then you should take admission for this course because it has great and enormous career scope as well. Try it now!