As we all know that only one thing can makes the Personality more dashing and attractive through wearing only, so clothes is first need for every one and our today topic is also about the Fashion Designing In Pakistan. The only thing that makes difference between the civilized persons and uneducated personality is Clothes. The first and ultimate object of clothes in early days was only to cover body but now a days as trend has been changed objective of clothing is to give a look to every one that i am the best. Fashion is the only tool that can enhance the sense of wearing in Fashion oriented environment. Fashion Designing In Pakistan is also deals with the changing upcoming and currently prevailing in the culture of Pakistan. If we say that Fashion Design field among the hot trends in Pakistan than it is not an false statement. Through many years now Fashion industry is emerged as the most demanded industry specially in Pakistan.
Fashion Designing In Pakistan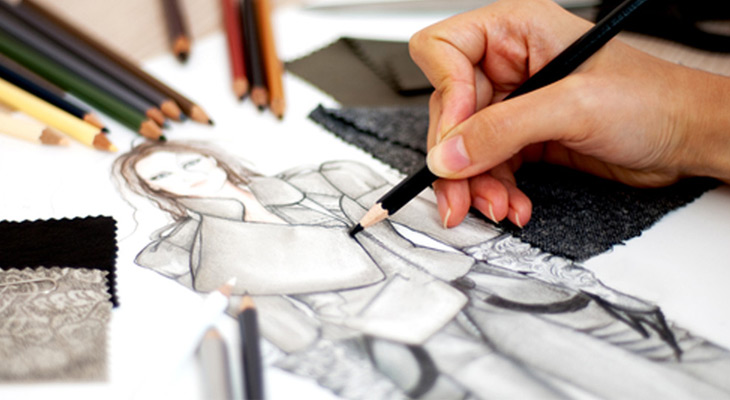 There are three types of fields commonly studies under the Fashion Design Field.
Garment Design
Leather Design
Accessory & Jewellery Design
This Division is the most recent growth in this field as well now here you can also get a complete answer about How to Become a Fashion Designer in Pakistan
Fashion Designing Subjects In Pakistan
Apparel design
Flat pattern making
Draping
Sewing techniques
Computerized pattern design
Knitwear design
Children swear
Menswear
Swimwear
Intimate apparel
Bridal
Haute couture and tailoring
Licensing
Fitting techniques
Fashion history
Fashion business
Fashion Designing Course Eligibility
You must be creative enough to combine colors, shades and textures and here is Fashion Designing Institutes in Pakistan.
For Bachelor
Intermediate with atleast 45% marks or A-Levels(22 points)with equivalency  Certificate from IBCC(Inter Board Committee of Chairmen) Islamabad or an equivalent certificate from a recognized Institutions are eligible to apply.Candidates need to pass an entry test also conducted by Institute.
For Master
Candidates holding bachelors degree in Textile Designing,Art & Design,Fine Arts Or any other equivalent degree from rocognized universities/institution with at least  45% marks are eligible to apply.Candidates need to pass an entry test conducted  by the University.
Fashion Designing Skills
You Should need excellent communication skills to express your Creative ideas
Knowledge of the Fashion market trend is also compulsory
Enthusiastic and motivated
Strong Designing Skills and Aesthetic Sense
Team Player
Fashion Designing Jobs Career in Pakistan

Fashion Designer
Research & Development
Design management
Material and Fabric sourcing
Merchandising
Coordination with Product promotional activities
Embroidery Designer
Creating Embroidery Swatches for woman & men wear as per clients taste.
Also should be able to work on swatching for all seasons like spring, summer etc.
Handling purchase orders for developments sent by client.
Doing perfect follow up of clients instruction.
Working on show pcs & press orders in short delays.
Working on first samples / TOP Pcs with merchandiser.
Working on Cost as well as sales for swatches, development & samples.
Should be capable to offer different options of embroidery as per client budget.
Communicating with Buyers & Suppliers.
Visiting factories for supervision of work allotted to factories.
Visiting Local Market for new material Sourcing as per clients taste.
No time limitation during Show time & Sampling time.
This is all about Fashion Designing Course In Pakistan. Do Comment about Fashion Designing Scope Feedback. ilm.com.pk highly appreciate the Feedback of Persons Practically Involved in Fashion Designing Field.