If you are searching for that how to check online ISSB Call Letter Status for the courses of 2020 then you are at the right platform from where you will be able to get complete procedure with the simple tips too so there is no need to be worry just calm down and stay on this page.. As you all know that ISSB stands for the Inter Service Selection Board and this organization is responsible for choosing and selecting the future leaders and person that run the armed forces of Pakistan as this is really a responsible job so that is why all the work done by this organization is done with the great responsibility. Once the jobs are announced by the Armed Forces that are Pakistan Air Force, Pakistan Army and Pakistan navy the then first of all the candidates who are willing to apply have to appear in the written test that is conducted by the officials of that armed force itself and all those candidates who clear this Written test are then called for Interview and then medical checkup and in the last if the candidates clear all these three preliminary test then he or she will be able to get a call letter from the ISSB to appear in the Test. As ISSB call letter are send to each and every single candidates though the courier services of Pakistan so sometime it happens that by mistake a candidates is not able to get their ISSB Call Letter so for all those students Check Online ISSB Call letter Status will be the best option that could guide you without any tension so read out the procedure down below.
Check Online ISSB Call Letter Status 2020 How To
Step 1:
First of all you have to confirm that either the ISSB Call letter is issued to other students or not because it is not send on the next day when you clear your last Medical or Interview Test so that is why once you confirmed that any of your friend or a person that has apply on the same course has get their call letter then again their is no need to be worry as ISSB Officials have provide you a platform from where you would b able to Check Online ISSB Call Letter Status and the access to this procedure is made easy and under reach of every common man.
What you have to do is just sit in front of your computer and open ISSB official website that is issb.com.pk when its completely load then view of the left top corner of the website you would see "Call Letter" as you could see in the image below so click on the call letter.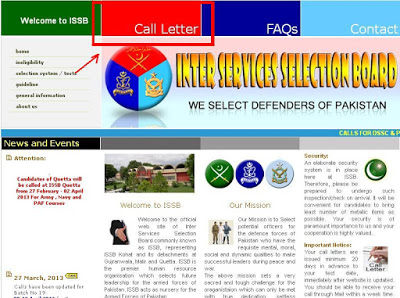 Step 2:
When you click on the Call letter then a new image will be open in front of your screen as this is look like the same as it is given in the below image. At this stage you just have to enter your CNIC number that you have provided to the officials at the time of applying for the Armed Forces and then click on the submit button under the block where you enter your CNIC number.


More Related Posts:
Step 3:

As soon as you enter your CNIC number then a new window will be open that will explain you the Online ISSB Call Letter Status 2020 as if your record exist in the database of the ISSB then the information of NIC Number, ASRC, Name, Father Name, ISSB, Test Date, Test City and Course applied the complete information will be visible to you in few second but if your NIC number is not in the record of the ISSB then this page will be blank