If you are looking for Private Hajj Package 2020 Pakistan Price, then you are on the right page. As the month of Dhul Hijjah is very near now. It is the month when Muslims of the world visit Makkah Mukarama to perform Hajj. Hajj is one of the five pillars of Islam. Every year, the Government of Pakistan makes a Hajj Policy. The policy is made with the help of the Saudi Government. This year, about 179,210 Pakistanis should be chosen for Hajj 2020. Applications from all over the country were accepted by the Government. But this year, the COVID-19 pandemics started to spread all over the globe. Looking at this, the Saudi Government is very curious about it. It is a very difficult time for them because the rumors are saying that this year Hajj is looking difficult. Have a look down for it.
Private Hajj Package 2020 Pakistan Price
Every year, Hajj is done in the Islamic month of Dhul Hijjah. Muslims around the world visit Khana Ka'ba to perform Hajj. It is one of the most important pillars of Islam. This year about 179, 210 Pakistanis have to perform Hajj. About 60% of pilgrims will do Hajj under Government schemes. The remaining 40% will do under Private schemes. The government of Pakistan started accepting applications. But suddenly, the pandemics of COVID-19 increased very much. So, all eyes are on the Saudi Government for the decision of Hajj 2020.
Private Hajj Price by Dar Al Salam Pakistan
There are different packages for Hajj 2020. The Government scheme fee is Rs. 490000. The Private Hajj Scheme offered by Dar Al Salam Pakistan is as follows.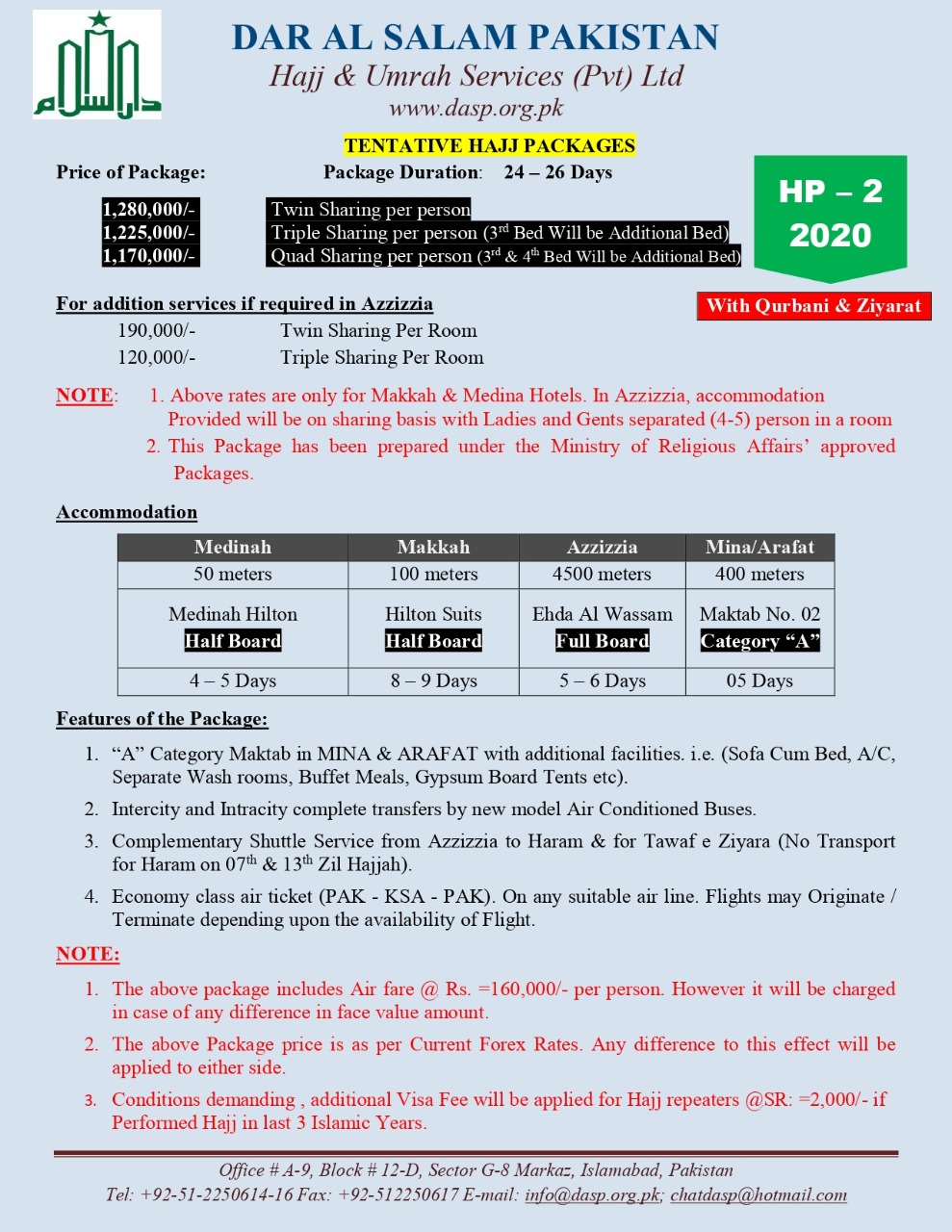 1st package including twin sharing per person is for Rs. 1,280,000.
Their second package includes triple sharing per person is for Rs. 1,225,000.
The third package includes Quad sharing per person for Rs. 1,170,000.
Pakistan Private Hajj Packages 2020 by Arqem Hajj
Arqem Hajj and Umrah Services is a traveling agency which is offering different economy, business class, and other private Hajj packages. It is registered with the Ministry of Hajj Saudi Arabia and the Ministry of religious affairs Pakistan. It has a quota for the private hajj scheme 2020. This traveling agency is also offering different Hajj schemes for different classes of people.
Private Hajj Package 2020 Pakistan
So, these were the Hajj Packages 2020. If you are also interested, then this is the time to apply. Although, the condition is not very good because of Coronavirus. But there is some time remaining and it can be expected if the virus ends. So, this was all about Private Hajj Package 2020 Pakistan Price. Hopefully, you are confident about the post. Stay connected with us for more informative news.