A complete list of Girls Colleges In Lahore is available on this page as Girls' education is an important point of differentiation among many societies. Many societies that focus on education are considered the most developing societies in the whole world. A great man says that educated women can lead us to an educated society because the first educational institute of every child is her mother who is a woman. Girls College/Universities In Lahore, Pakistan are well aware of the need for Education regarding the Girl's education. Girls play the same role in the development of the country as men played because education does not care whether the seeker is a girl or a boy. Our religion Islam also focuses on girls education as Girls' education. Education is a need of the modern world so if you want to be the world then education is very necessary. Does everyone have the right to be educated why don't girls? They also have the right to get an education. Colleges In Lahore are listed below as the most important in educating the women in our society.
Girls Colleges In Lahore
Many of the Girl's colleges in Lahore are available and girls who are interested in the study now can apply for admission all colleges that are working in Lahore are mentioned below.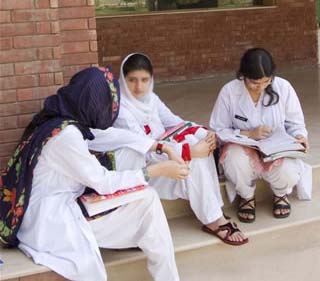 Private Colleges in Lahore
Right now, a number of private colleges working in Lahore city and now providing education-related facilities to the candidates but students do not aware of the List of Private Colleges in Lahore which is available on this page.
| | |
| --- | --- |
| College Name | Address |
| QANMOS College | 5-Ameen Park, Ghazi Road, Lahore, Cantt. |
| Axis College of Arts & Science for Girls | Near Shazo Lab, Lahore. |
| Mansoora Model Intermediate College for Female | Mansoora Multan Road, Lahore. |
| Sofia College of Arts & Science | 31-Bahawalpur Road, Lahore. |
| Lahore College of Accountancy for Girls |  50-D-2, Johar Town, Lahore. |
| Eastern College of Management Sciences | 84-L, Model Town, Lahore. |
| Minhaj College for Boys | Near Telephone Exchange, Hamdard Chowk, Township, Lahore. |
| Van Dar By 1-College of Management | 1-T, Raiwind Road, Lahore. |
| Kips Intermediate College for Girls | 343-A, Johar Town, Lahore. |
These are the Girls Colleges In Lahore complete list for all those parents who do not like co-education but wanted to teach their girls can take Admission of their children at these girls' colleges as these colleges are just for girls. Lahore is considered to be a city of Colleges so there are many colleges that are just built to provide education to just girls and above the given list of girls Colleges is a complete list in Lahore.