FSc pre medical is the field that makes you aware about the medical profession in Pakistan. The first year students can focus the field more extensively. It will make you realize about the abilities of students towards the medical field. The finalized field after the FSC pre medical shall be listed here at this page in further read. The right selection after the pre medical level gave you the idea that how it will assure you about every aspect of the field. The right selection after the pre medical means the right way to satisfy the future. Field after fsc pre medical depends upon the interest and merit. The priority field after FSc pre medical is bachelor of medicine and bachelor of surgery. It known as MBBS. It is one of the common way to join Best Fields After FSc Pre Medical In Pakistan. The second field after the fsc pre medical is Bachelor of pharmacy means D.Pharmacy. The third field after fsc pre medical is the bachelor of dental surgery or BDS. It is again the same field relevant to the medical career. You may opt for Medical & Allied Health Sciences at the first. but remember you have to get maximum marks to get admission in pakistan. The second major field after pre medical in pakistan is  Biology and Life Sciences. It is the field that can be access easily  even if you got lower marks than the medical and allied science. Admission in agriculture sciences is not tough but Pakistani universities have proper criterion to allocated the seats. Last but nit the least is chemistry and material sciences it is indirect field but you have to care about the material sciences perspective in detailed review.
Best Fields After FSc Pre Medical In Pakistan
Bachelor of Medicine and Bachelor of Surgery (MBBS)
Bachelor of Dental Surgery (BDS)
Doctor of Pharmacy (Pharm.D
BS in Diet and Nutrition
BS Medical Laboratory Technology
BS Vision Sciences
BS Intensive Care
Doctor of Physiotherapy (DPT)
BS Bio-Informatics
BS Bio-Medical Engineering
BS Biotechnology
BS Microbiology
BS Genetics
Doctor of Veterinary Medicine
Emergency & Intensive Care Sciences
Nuclear Medicine
Respiratory Therapy
Speech & Language Pathology
BSc Hons Agricultur
Bachelors of pharmacy.
Doctor of Pharmacy
B.Sc Physiotherapy
Bachelor of Physiotherapy (BPT)
Bachelor of Homeopathic Medicine & Surgery (BHMS)
Bachelor of Technology in Biotechnology (B. Tech)
BE in Environmental Engineering
B.Sc Nursing
B.Sc Medical Laboratory Technology
Biochemistry
Biogenetics
B.Sc Nanotechnology
B.Sc Microbiology
B.Sc Psychologist
B.Sc Bioinformatics
B.Sc Biotechnology
Veterinary doctor
Agricultural medicine
BSc Nursing
The BSc nursing is the another good option if you are unsuccessful to get the merit on above fields. The BSc nursing can be done by those who consider it as interest and may be forced field as well. Most of the students in Pakistan are failed to get the placement in above said fields. Best Fields After Fsc Pre Medical In Pakistan has other options after aforesaid as well.
BSc Physiotherapy
Like BSc Physiotherapy is the right choice for those who wants to get the glowing career in physical anatomy field.
BSc medical laboratory technology
The BSc medical laboratory technology is good choice as well because it directly link with the technical aspect of the medical in specified way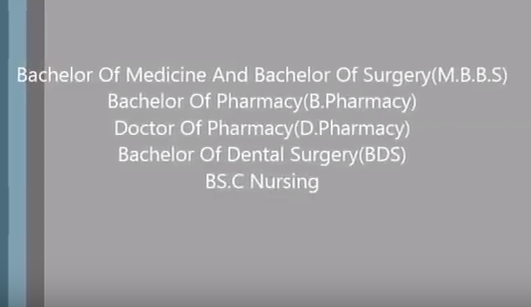 BPT or bachelor of physiotherapy
The BPT or bachelor of physiotherapy make you aware about the technical achievement through the physiotherapy approach. It means a lot for students who wants to see their career about the prevention, medication, and rehabilitation of movement system of human.
BHMS
Bachelor of homeopathic medicine surgery (BHMS) means it medical knowledge of the homeopathic system and generally it related to surgery and medicine.
Biotechnology famous as B.Tech
The Bachelor of technology or biotechnology famous as B.Tech. It deals with the biological processes with industrial point of view.
Courses After Intermediate in Pakistan
At third attempt you can consider Environmental engineering. Bachelor of science, BSc bioinformatics. BSc biotechnology and BSc nanotechnology again choices with respect to the career after pre medical. These fields depends upon the allocation in government and private sectors in Pakistan. BSc microbiology, Bsc Psychologist, veterinary doctor, bioenergetics, agricultural medicine and biochemistry are choices for students Best Fields After Fsc Pre Medical In Pakistan.
Medical Courses, Diplomas and Technical fields after Pre Medical In Pakistan
These below given are agile options for students so they can appropriately think about the course, diplomas and technical fields after the pre medical in pakistan. These fields are relevant but not necessary link towards the way out to get the medical education in best way.
Anaesthesia Technician
Anaesthesiology
Anesthesia Technology
Audiology
Audiology & Speech Pathology
Cardiac Perfusion
Cardiology
Clinical Laboratory Sciences
Clinical Micro Biology
Community Medicine
Critical Care Sciences
Dental Hygienist
Dental Technology
Dentistry Diagnostic
Radiology Dialysis Technology
Eastern Medicine & Surgery
Emergency & Intensive Care Sciences
Emergency Medical Technician/Dispenser
Emergency Medicine
Epidemiology & Public Health
Food & Nutrition
Food Science & Nutrition
Food Sciences & Human Nutrition
Forensic Studies
General Nursing
Health
Health Technology
Homoeopathic Medical Science
Human Diet & Nutrition Human
Nutrition & Dietetics Mission
Imaging Technician Intensive Care
Medicine Investigative
Ophthalmology Medical
Medical
Image Technology
Medical Laboratory Sciences
Medical Laboratory Technology
Medical Physics
Medical Technology
Medical Ultrasound
Medicine –  MBBS
Midwifery Molecular
Medicine Molecular
Pathology Neuro
Physiology Technology
Neuro Sciences
Nuclear Medicine
Nursing Nutrition
Nutrition & Dietetics
Nutritional Sciences
Occupational Therapy
Operation Theater Technology
Operation Theatre Sciences
Operation Theatre Technician
Ophthalmic Technician
Ophthalmology Optometry
Optometry & Orthoptics
Orthoptics Pathology
Pharmaceutical Marketing
Pharmacy
Physical Therapy
Physiology Physiotherapy
Prosthetics
Prosthetics & Orthotics
Psychiatry
Public Health
Radiation Oncology
Radiographer
Radiologic Technology
Radiology
Radiotherapy
Rehabilitation Sciences
Renal Dialysis Technology
Respiratory Therapy
Skin Care
Speech & Language Pathology
Speech Language Therapy
Sport Sciences
Surgery Technology
Ultrasound Technology
Urology
Veterinary Medicine
Vision Sciences
Remember if you get the marks that are enough to retain the merit then you should have to go to the major fields. But if you are unable to obtain the marks then it must be adopted in above fields. These are fields relate to the Best Fields After FSc Pre Medical In Pakistan.