Career in Pakistan army is one of the most charming and attractive profession in the entire country because of the lifestyle and regime of the profession. So for these respective purpose students after fulfilling their eligibility criteria applies for the army job. Here are the few sources through which one can develop its career in Pakistan army.
1. PMA long course:
One of the very straight forward ways to head to the Pakistan army is through the Pakistan Military Academy (PMA) long courses. The students who have passed the Intermediate with 50 percent mark or A-level passed youth can apply for Pak Army Jobs as an officer through these courses. The age limit for such candidates is from 17 to 22 while if the candidate is applying after completing their graduation of 4 years that might be either BS or BBA in such cases the age limit is from 17 to 25 years while there is an extension made of 3 months on both the upper and lower limits of the age defined. The 2 year course at Kakol, PMA the selected candidates are being enrolled as sub-lieutenant.
Examination:The respective examination for the Pakistan army is conducted twice a year in the months of April and October when the PMA examinations are being conducted.
Selection procedure for the PMA examination:
• Intelligence/personality tests and Academics written test based on multiple choice questions from English, Math, Pak-Studies, Islamiyat and general knowledge are conducted at AS&RCs.
• Candidates declared successful in written/intelligence tests will undergo physical, medical tests and preliminary interview at AS and RCs.
• Candidates qualifying preliminary selection will be sent to Inter Services Selection Board (ISSB) for further tests.
• Medical examination of Inter Services Selection Board (ISSB) recommended candidates will be carried out at nearby CMHs.
• Final selection is made at General Head Quarters (GHQ) based on overall merit prepared.
2. Direct short service commission / Graduate/Technical Graduate Course:
Direct short service commission in Pakistan Army can be getting after B.A or BSc degree. The same selection pro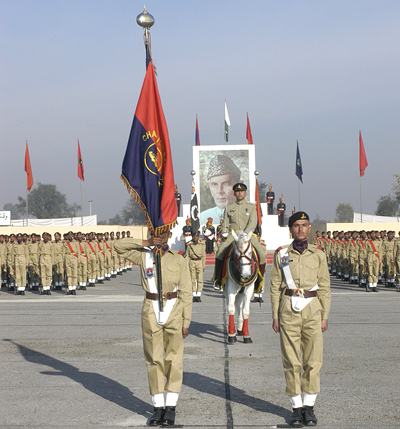 cedure is adopted as mentioned above. 60 percent marks in the prerequisite examination are compulsory. Age limit is 28 years for graduate. And for those candidates holding M.A, MSc, Darse-Nizami or M.A Islamiyat degree, the age limit is 35 years. Details of enlistment according to the subject in different core areas under the courses:
BSc engineering
Electrical or Mechanical
Electronics
Civil
MBBS
 BDS
MA/MSc
Darse-Nizami/MA Islamiyat
Technical cadet Course (pre-engineering group)
Candidates having FSC pre-engineering can get admission in army technical cadet course. Candidates who have secured 65 % marks in FSC along are eligible to apply for this course. A test of FSC level comprising questions from physics, chemistry and mathematics is taken. Successful candidates are called for I.S.S.B tests. I.S.S.B qualifiers are medically examined in the nearest military hospital. A final list is prepared and the successful candidates are sent to different colleges of Pakistan Army namely Military College of engineering, military college of signals, college of electrical and mechanical engineering.
Army Medical College (Pre-medical group)
Those students who have passed FSC in Pre-medical with 65% and their age are between 17, they can apply for admission in Army Medical College for M.B.B.S course. After selection they get the M.B.B.S course done for five years in Army Medical College. Having completed the training they go to Army Medical care center for ten week military training. They were commissioned in the rank of captain after completing this course. Several seats are reserved for women under this scheme.
List of Pakistan Army Selection Centers
1. Army Selection and Recruitment Centre, PESHAWAR. 091-201-35885
2. Army Selection and Recruitment Centre, RAWALPINDI. 051-561-34137
3. Army Selection and Recruitment Centre, LAHORE. 042-6699-35885
4. Army Selection and Recruitment Centre, MULTAN. 061-531-35885
5. Army Selection and Recruitment Centre, HYDERABAD. 022-791-35885
6. Army Selection and Recruitment Centre, KARACHI. 021-560-35885
7. Army Selection and Recruitment Centre, QUETTA. 081-2490-35885
8. Army Selection and Recruitment Centre, GILGIT. 05811-961-35885
Join Pakistan Army in 2012
Click Here For Army Public Schools & Colleges Admissions 2012