UHS MBBS BDS Admission Form 2018 Online shall be available here at this page that means it has the best approach for the way out that is considerable. Every year it improves according to the new admission policy. This year there is no need to physically visit any center for the specially visit the login details. If candidate wants to register through online form then it is possible for the way out that is considerable as per the defined rules already mentioned on the advertisement. The online admission form procedure is simple for the first time visitor till the repeat visitors. If visitor is the first time visitor then he has to register through login and pin code generated first time. After candidate login there is simple form to fill. Further information can be obtain from the advertisement below. The Higher secondary school certificate pre medical and equivalent examination is the basic step that approach admission. The first appearance is matter able in the admission test within the Punjab and the minimum percentage aggregate should be 80 percent at least if you want to select for the position where you are required to fulfill UHS Online Admission Form For MBBS 2018 and UHS Online Admission Form For BDS 2018. Weight age of matriculation, HSSC and entrance test remained intact with the way out that is doing well with respect to the public center institutions. It obtain UHS Lahore MDCAT Entry Test Result 2018
Hafiz e quran candidate registration is 15 October to 18 October 2018
Last Date for Admission Form Submission 15 October to 23 October 2018
Hafiz e quran Test on 19 October to 23 October
Disabled Candidates Medical Board Test On 24 October to 27 October 2018
UHS MBBS First Merit List 9 Nov 2018
Classes start From 19 Nov 2018 in Medical Colleges
UHS BDS and MBBS Second Merit List 26 Nov 2018
Classes start From 19 Nov 2018 in Dental Colleges 10 December 2018
Third Selection or Ugradation List 17 Dec 2018
UHS MBBS BDS Admission Form 2018 Online
Advertisement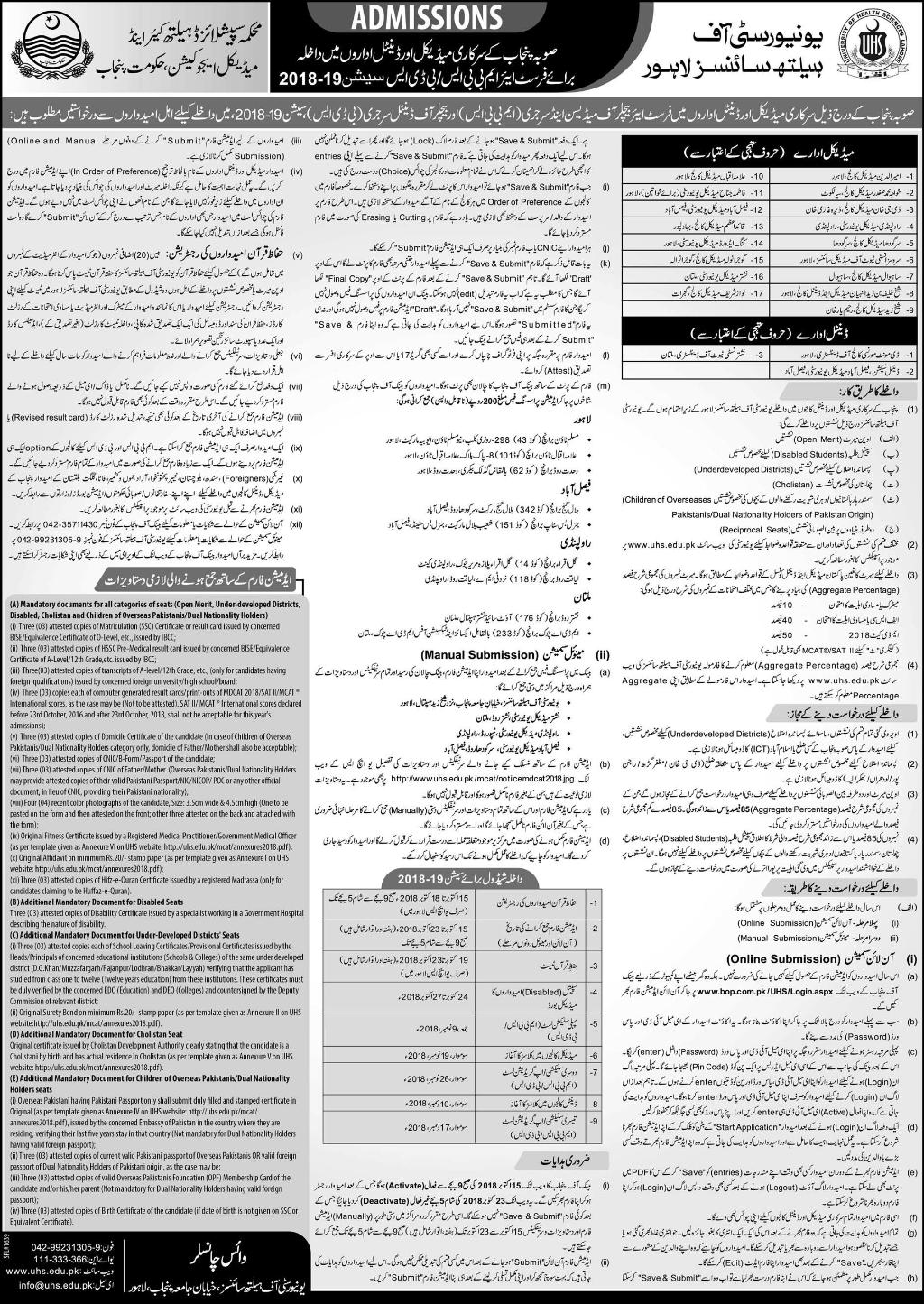 These are some details that how to submit UHS MBBS BDS Admission Form 2018 that required for the complete process through the application way out. The minimum aggregate is possible to maintain the institutional wise priority makes the students aware about institutes selected through the official link. Further advertisement is the dual way to explore about the UHS MBBS Admission Form 2018 Online and UHS BDS Admission Form 2018 Online in the defined way.
UHS Online Admission Form For MBBS 2018
The minimum percentage of aggregate marks are being captured through the provincial admission Committee in the weight age of matriculation and HSSC through the entrance system. More than 80 percent as the aggregate means you are at the right track to find the test based association.
UHS Online Admission Form For BDS 2018
The formula is simple but still it gained the possible approach as best as way out. The application for public sector institutions is require to make the appearing as possible as it should be. The involvement of academic and institutions started to prepare for the complete process always maintaining the possible paradigm in approach that is link through the defined rules. Biology chemistry and even unadjusted way out percentile reflect through the possible material binding in determining examination that may apply. The biology and chemistry are important subjects and interest in these subjects reliable under the approach.