Here are the complete Medical Colleges In Lahore. Lahore is an educational city due to the many medical colleges in Lahore at that point. Countries develop when they approach medical institutions. Each country is termed as successful when peoples live and physically fit in every aspect. If one's country's health Administ. All these private and government Medical Colleges are affiliated from the ratio is strong then it is known as a country-based association in the medical field. University of Health Sciences UHS as well as approved by the Pakistan Medical and Dental Association PMC. It is compulsory for each student to verify before taking admission to any of the Medical Colleges of Lahore whether this college is approved by PMC or not.
Medical Colleges In Lahore
A list of all the colleges that are working in the field of Medical exists as well people can apply online for admission if they have cleared the entry test of PMC MDCAT. Because without entry tests students cannot take Admission to medical colleges.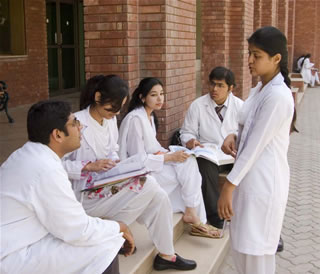 Private Medical Colleges in Lahore
All Private medical colleges that are now working in Lahore are available below the table just click and then complete details about admission like criteria, how to apply and the last date will show on your screen.
List of Private Medical Colleges
Government Medical Colleges in Lahore
Students who find government medical colleges in Lahore are now listed on this page. While these colleges just offer MBBS programs. So, click on the college name and then the complete details will show on your screen.
List of Government Medical Colleges
Private Dental College in Lahore
List of Private Dental Colleges
That is all about the Medical Colleges In Lahore as this will help you a lot in knowing the top medical colleges in your city if you are a student of Medical and for further studies want to join a well-known institute then this list will help you in choosing your institute. A good institute is a guarantee of well and proper education and the medical field is the noblest profession in Pakistan so choose it wisely.