Now, MBBS Admission 2022 in Pakistan is finally declared. University of Health and Sciences now invites the candidates on behalf of admission forms to apply for the Admission of session 2022 but only those student who has Punjab domicile can apply because no other certificate is acceptable in any other province. Candidates who do not have attended the entrance test that was held in October 2022  are also not able to apply for admission as this entrance exam is the basic step to take admission in any Government Medical and Dental Colleges of Punjab.
MBBS Admission 2022 in Pakistan
Apply Online
MBBS Admission 2022 in Pakistan has been announced while the schedule of the last date and selection list is mentioned below and candidates can check from this page.
MBBS Admission 2022 Apply Online
All the students who are going to take Admission to medical colleges now can apply online. On the other hand, all those colleges who have been mentioned below the table and just click on apply online option then give the complete details regarding academics.
Government MBBS Medical Colleges:
Private MBBS Medical Colleges
MBBS Admission 2022 Advertisement
Till now, has not announced the MBBS admission 2022 advertisement. They will announce as soon the advertisement while when they will announce the advertisement then we will share it on this page. The admission schedule will mention in the advertisement.
An entrance test is the only way if a candidate wants to take admission to the MBBS programs in Medical and Dental Colleges of Punjab, as all the colleges demand an entrance Test Passing marks then will allow admission to the candidate.
Old Advertisement while new available as soon.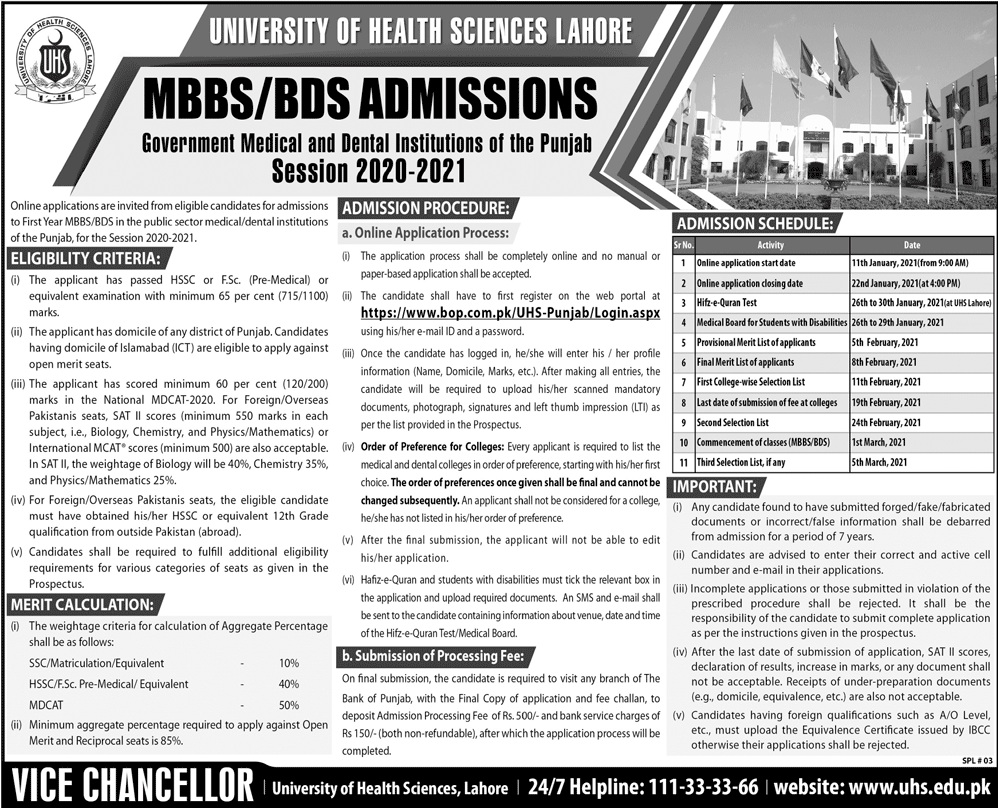 Eligibility:
For open merit 80% Marks are Necessary
In F.Sc pre-medical 65% Marks is Necessary.
PMC Entry Test Must Clear
Procedure For Submission Forms:
The prospectus and the registration form will be available at the PMDC.
After filling the form with complete documents that are required with the registration form submit the form to the same place between the same dates.
Candidates will give their preference for medical and dental colleges in one single admission form which once given shall be final and cannot be changed subsequently.