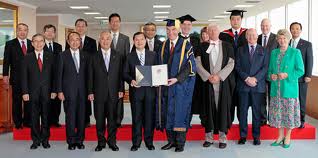 Today there is a biggest "Educational Seminar" in the Pearl Continental Hotel Lahore; this is a great opportunity for the students who wanna be MBBS or Engineers. Because in this seminar they will get the opportunity to meet with the well known personalities of China belongs to education field (Universities, Colleges & Schools).
Eligible Candidates for Admission:
MBBS (Approved by PMDC & WHO and fully English Medium)
Engineering (Civil, Electrical, Mechanical & Chemical)
Opportunity to Meet University Officials of China:
Mr. Xiao Changchun (Vice president of Jinggangshan University)
Mr. Xiao Canxinal (Dean, School of Medicine)
Mr. Du Cheng (Deputy Dean, Office of International Affairs)
Mr. Qiu Bin (Deputy Dean, School of Ilumanities)
Admissions:
On-Spot admission will be issued to all Qualified Students, so all students should have to come with all Educational documents, copy of Passport & 2 photographs.
Date & Time of Seminar:
The Seminar is today i.e Monday 16-07-2012 (10:00am-4:00pm) in the Pearl Continental Hotel Lahore.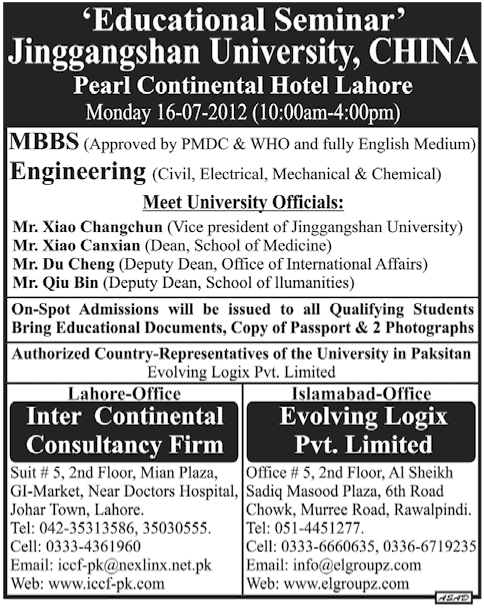 Contact Information:
Lahore Office:
Inter Continental Consultancy Firm
Suit # 5, 2nd Floor, Mian Plaza, GI-Market, Near Doctors Hospital Johar Town, Lahore
Tel: 042-35313586, 35030555
Cell: 0333-4361960
Email: [email protected]
Web: www.iccf-pk.com
Islamabad Office:
Office # 5, 2nd Floor, Al Sheikh Sadiq Masood Plaza, 6th Road Chowk, Murree Road, Rawalpindi
Tel: 051-4451277
Cell: 0333-6660635, 0336-6719235
Email: [email protected]
Web: www.elgroupz.com